The distinct presence of first Iran pavilion in Moscow stone exhibition
Inauguration of first Iran stone pavilion, is a distinct presence and memorable memory that was held by Iranian authorities, Dr. Sargheini, the deputy minister and the accompanying delegation and also Mr. Sharifi, the secretary general of Iran stone association after official inauguration of 17th Moscow stone industry exhibition. The opening ceremony and visiting Iran pavilion was performed in an intimate setting. (We will interview by all members in next days.)
This is the first practical Iran pavilion in stone industry which has outstanding and effective presence. So that all participants and visitors, exhibition authorities and also Iran senior authorities had emphasized.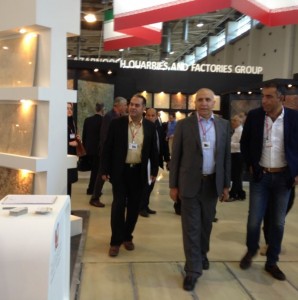 After visiting the pavilion and Mr.Sargheini conversation with exhibitors, The ceremony was continued with live music performances by a group of Iranian music includes Persian and Russian musicians.
Mr.Mehdi Sanaei, Islamic Republic of Iran ambassador with his entourage joined Iranians at 13:30 at the exhibition and then had interlocution and conversation with Iranian exhibitors.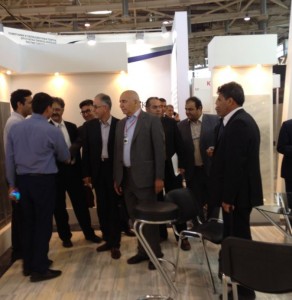 In this exhibition, the following companies have participated in the Islamic Republic of Iran Pavilion:
      1. SANGESTAN CO.
      2. SHAHAB SANG INDUSTRIAL MINING CO.
      3. GOLDEN WALL STONE
      4. IRAN STONE CONSORTIUM
      5. ARMAN STONE MILAD CO.
      6. INTERNATIONAL TRADE COMPANY, OSTOVAN SEPAND, OSCO
      7. I.S.E. (INTERNATIONAL STONE EXPERT)
      8. MAHSAB STONE CO.
      9. YAZDSTONECLUSTER
And also the following companies display their own products outside the Pavilion:
     1. MGT (MARJAN GOLDEN TRADING)
     2. MEGA STONE
     3. AHJAR SEPAHAN & QASR STONE QUARRY