Cladding
Since the time that beauty, comfort, safety, thermal and sonic issues, environment and energy saving issues became important to people, they considered building various claddings with different methods. The most popular claddings in respect to purpose of building, economic and environmental situation include, stone (natural and artificial), glass, composite, bayramix and brick. In this article each different cladding is explained briefly and its advantages and disadvantages are mentioned.
Key Words: Glass Cladding, Composite Cladding, Stone Cladding, Brick Cladding, Wooden Cladding, Bayramix Cladding
1-Introduction
The first role of cladding is to protect the building against atmospheric and climatic factors. Having no opening makes the building resistant against, wind, rain and heat but there will be no light or ventilation in the building. This fact led to using claddings. Iranians have an ancient history of building claddings. This is proved by different mosques (mostly located in Shiraz, Tabriz and Isfahan) and monuments that are built by Iranian artists and architects. Cladding of a building plays a critical role in the formation and appearance of the city. Therefore cladding should be selected in a way that maintains uniformity of city view. If every building is designed without considering its setting and city texture, then irreversible heterogeneity occurs in the city. This leads to unwanted contrasts and lack of identity in the city. The aim of cladding in a building, and the factors that influence it must be considered and thought about. Before any other analyzing various cladding types, it should be noted that, every cladding, disregarding its type and cost, must be maintained very carefully. And in case of any damage to the cladding, damaged parts must be repaired completely to prevent more serious damage which may lead to complete demolition of the building or cladding itself.
2-Technical Properties of a Cladding
1-

Insulating the Building against Heat and Cold: Various building materials have different heat transfer coefficient and specific heat capacity and as a result they have act differently when heated. An appropriate cladding system should not only be beautiful, but it also must save energy. Therefore it is recommended to utilize materials that have a lower heat transfer coefficient, to save thermal energy.
2-

Insulation against Sound/Noise: A building cladding can be an ideal insulation against sound. This becomes even more important for building in industrial cities or near highways.
3-

Resistance to Earthquake
4-

Resistance to Impact
5-

Resistance to Freezing
6-

Resistance to Fire
7-

Resistance to Detaching and falling off
8-

Flexibility during Installation
9-

Being Light
10- 

Able to be Used in Tall Building
11- 

Cladding as an Interface: A cladding should be designed in way to protect the interior from outside but maintain the needed connection simultaneously. For instance, the interior should be able to use the sunlight and outside view.
12-

Each Cladding is an Element from View of the City: Each building is a part of the city, and its cladding influences public view of the city. Beauty of a cladding is measured in coordination with its setting.
13- Beauty of a Cladding: Beauty is an integral part of a cladding, when a cladding is beautiful it represents expertise of the architect and designer of the building.
14-

Cladding and environmental conditions: Each building cladding is different due to different environmental conditions such as, weather, earthquake, air pollution and so on. Therefore different materials are used in big polluted cities than in small towns. The other factor is temperature, in cold areas cladding should be able to resist freezing and also should prevent heat transfer.
15-

Final Cost: One the most important factors is final costs, as the price rises, less customers will choose it.
16-

Installation Speed: The more time it takes, the more money should be spent
3- Natural Stone Cladding
Limestone and igneous stone are more frequently used as cladding than other natural stones. Claddings should be able to resist different weather conditions and pollutant, therefore they should have these qualities:
Should Be Appropriate for the Weather Condition: For example, in cold and wet areas low porosity is very necessary to resist freezing, or in windy places, high resistance to abrasion is very important.

Being Polishable

High Flexural and Tensile Strength

Mineral Contents: Some minerals like Iron, are vulnerable against weathering so they reduce durability of the cladding. Concentration of impurities is also very dangerous.

Decent Adherence to Mortar

The color should not change by sunlight or gasses
Quality of the building stones is very decisive in choosing their application. Iran has great resources of building stones in various colors, it is recommended that quality parameters of these stones such as physical/chemical properties, and their cutting and polishing quality, be analyzed. As a result customers can trust more easily, and this leads to higher amount of export.
3-1- Advantages of Natural Stone Cladding
Beauty and Color variety

Weight: Granite is heavier than others, nowadays Travertine is more common, and some resins are utilized to improve its quality.

Water Proof and Sound Proof: This is exclusive to Travertine

Durability: Travertine and Granite are very durable. Granite is resistant against abrasion and has high flexural strength.

Resistance to Fire

Able to Be Applied over All Surfaces

Able to Be Used in Industrial Environments: Polished Granite is resistant against water and impact, and is suitable for acidic environments. Also Limestone can be used in alkaline environments.
3-2- Disadvantages of Natural Stone Cladding
High Costs: but its beauty may compensate for its high costs

Need to Coatings to remain clean

Decoloration under direct sunlight

Radioactivity: Granite due to radioactive radiation is not suitable for interior uses

Time-consuming

Need to more than 5 Celsius Temperature for Installation

Adherence Issues: this is mostly about Granite, because of its low porosity and water absorption. Marble is somewhere in between Granite and Travertine, so it is relatively better than Granite in terms of adherence. Using Cement grout is not safe, so it is recommended to use scoops to hold the stone. There are also two other method, using metal frameworks or using screws.
3-3- Natural Stone Composite (NSC)
In this procedure some narrow stone plates (1-5 mm) are installed over a composite (such as aluminum or glass) layers. This method has advantages of both natural stones and composites at the same time. Amount of natural stone that is used, is decreased and as a result the cost are lowered. This product has become very popular because of its beauty, and is widely used in exterior/interior designs, elevators and also building floors.
3-3-1- Advantages of Honeycomb Composites
Beauty: Because of using natural stone

Weight: 80% lighter than natural stone cladding

Strength: 60 times more resistant against impact, than 3cm Granite cladding

Wide variety of choices: You can use various dimension stones

Quick Installation

Lower Installation Costs

Insulated against Sound and Heat: Due to composite layers

Able to Be Applied in Tall Buildings

Flexibility in Installation

Better resistance to earthquake, because weight of the building is decreased

Resistant against pollution (such as acidic rain) by decent coatings

Resistant against Fire
   
NSC Cladding
4- Artificial Rock Cladding
Artificial rock is very useful in building projects and industries. One of the first artificial rocks was named "Lithodipyra" and was produced during 1769 to 1833. Afterward producing artificial rocks continued, and nowadays they are mostly used in interior designs.
4-1- Advantages of Artificial Rock
Wide Variety of Colors and Patterns

Durability

Easy Installation

No Dimension Limit in Production

Higher Strength (Flexural & Tensile) than Natural Stone

Lighter than Natural Stone (Density of 1100-1300 Kg/m3): This reduces weight of buildings and makes them more resistant against earthquake

No Porosity and Zero Water Absorption

Lower Final Cost
4-2- Disadvantages:
Not usable in Exterior Claddings

It might lose its color after being washed

Also its color might change under direct sunlight

May Be Cancerogenic
5- Glass Cladding
Using glasses as cladding is very common these days, especially in tall buildings and towers. The key factor is that on top of the beauty, the building can enjoy maximum sunlight. Applying two/three layers of glass produce sound and heat insulation which is very desirable in buildings.


Glass Cladding
5-1- Advantages of Glass Cladding
Decreasing Building Dead Load

Quick Installation

Sunlight

Ability to See Outside

Beauty

Sound Proof ( double layered glasses)

In glass claddings with 2/3 layers final cost is reduced to due adaption to environmental conditions.

Natural Ventilation: A two layered glass cladding with a ventilation system, substantially decreases energy consumption in buildings.

Decreasing sound/noise pollution (2 layered glass)
5-2- Disadvantages
High Heat Transfer Coefficient, which leads to:

In cold seasons, the cladding becomes very cold, and make people around it feel cold and uncomfortable

In other seasons, sunlight radiation makes the interior become very hot and uncomfortable. Of course a 2 layered glass is much better in this aspect.

High Energy Consumption and Air Pollution: As already mentioned, glass claddings due to their high heat transfer coefficient, easily waste thermal energy. This increases energy consumption in the buildings and as a result water pollution. Although there are some glasses that absorb heat and some others that have better heat transfer coefficient, but they are still simply not good enough.

Sound/Noise Pollution in the interior of buildings

It's not Economical: it is mostly because of high costs of 2 layered glass

Vulnerable to Earthquake

Vulnerable to Fire

Lowering Building's Interior Space: in 2 layered cladding, there is a space between 2 layers which is about 2-20 cm, this reduces usable space of the building

Extra expenses for repair, maintenance and cleaning
6- Composite Aluminum Cladding
Composite is a combination of materials in a way that, the produced material is much durable than each component. Nowadays composite are very popular and are utilized as cladding. They are consisted of 2 Aluminum layers and one plastic/mineral layer in between them.

Composite Aluminum Cladding
6-1- Advantages
Properties of composites are much better than their components'.

Being Light: Weight of about 5-8 Kg/m2, which is much less than other materials like rock, glass and cement. 90% lighter than Granite, 85% lighter than cement and 75% lighter than glass.

Easy assembling maintenance and repair

Sound Proof: When it is applied on a concrete wall, its sound insulation becomes even better

Color Variety: A wide variety of colors is available for the designers to choose. Colors are painted in high quality and are resistant against pollutions, these properties are produced by PVDF coatings.

Resistance to Fire: It is CFC free and does not pollute the environment even after burning.

Independent Operation while Earthquake: These sheets are not fixed to the cladding, therefore they have freedom to move and danger of falling is minimized.

Sealing of Cladding: They prevent water from penetrating and they are also resistant to acidic rain and other polutions.

Quick Installation: One of their most important advantages is that they are very quickly installed.

Able to be Installed on Curved Surfaces
6-2- Disadvantages
High Final Cost: High installation costs plus poly ethylene material in its middle layer makes it very expensive.

Durability: This is very vulnerable to wind and hurricane because of its narrow profile. Therefore after a while it might deform and is not durable.

Easily Gets Stained and Dirty: They are made Aluminum which absorbs dust and particles of the air, therefore this cladding gets dirty easily. In foreign countries they apply static colors on it; however this procedure is not common in Iran because of its high costs.
6-3- Stone Design Aluminum Composite Panel
Nowadays they are very popular and are available in different colors and patterns. It is worth mentioning that, in the production process, 3 colored coatings are laminated on Aluminum layer.
6-4- Wood Design Aluminum Composite Panel
It is widely utilized in Iran and other countries, and in the production process one layer is laminated on Aluminum layer.

Aluminum Composite Panel with Wood Design
7- Bayramix Cladding:
Bayramix is a coating which is used for both interior and exterior purposes. It can be applied on painted wall, stone, cement, wood, plastic, metal and glass. This product was invented in 1993 in Turkey. Bayramix is consisted of stone grains in various colors and sizes mixed with resins and other admixtures. So it is in form of a mortar, but after becoming dry, Bayramix will look like dimension stone.
7-1- Advantages
Color Variety

Easy Installation

Easy Repair and Maintenance

Flexibility

Water-Washable

Able to Cover Rough Surfaces
7-2- Disadvantages
Cannot be applied on dirty (wet or greasy) surfaces and also when the weather is windy or full of dust.

Durability: It is not resistant to environmental conditions and is not durable as a result.

It is not popular in Iran, due to cultural issues and is not compatible with Iranian Taste.
8- Ceramic Cladding
In respect to high costs and weight (increases dead load in buildings) of stone claddings, in some countries they have paid attention to ceramic.
 8-1- Advantages:
75% Less heavy than natural stone

Beauty and Flexibility
8-2- Disadvantages
Lack of Cohesion Between Ceramic and Cladding

No Insulation to Heat, Cold and Sound

Cannot be Used in Crowded Places (because of the reflection of light)
9- Brick Cladding
This cladding is divided into two different categories: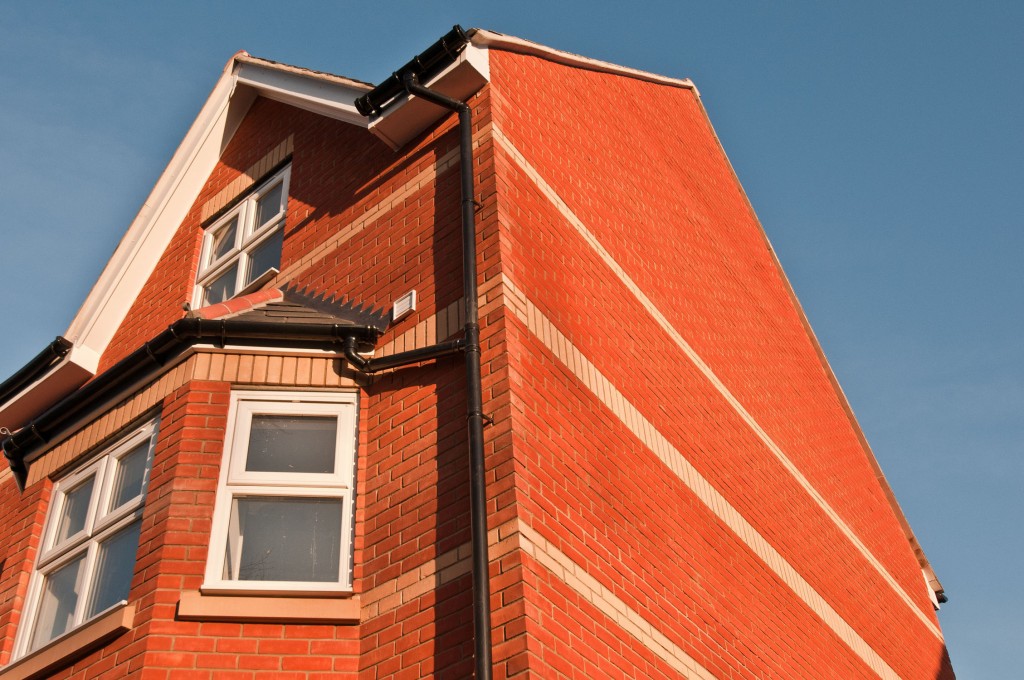 Brick Cladding
9-1- Dry Cladding
In the dry procedure, mortar is not utilized, instead some rails are used to put bricks together.
9-2- Advantages of Brick Cladding
Low heat transfer coefficient and used as heat and cold insulation in buildings

Consuming Less Energy during Installation: In dry cladding method, a heat insulation layer is stuck (whether mechanically or by using glue) on the building at first. Then, the (metal, wooden or Aluminum) frame is attached to the building, so there will a space between dry cladding and insulation layer.

More Economic than Traditional Claddings

Quick Installation: This method uses metal frames and does not need scaffolds, so this make installation much faster.

Weight: So much lighter than traditional claddings; however heavier than modern ones.

Resistant to Fire

No Noise and No Construction Waste: In this procedure, surface of the wall is not removed, and cladding is applied on the wall directly, therefore, no noise and waste is produced.

No need to Professional Workers: Installation of rails and bricks is a mechanical process and no professional workers are needed.
9-3- Disadvantages
No Sound Insulation

Durability: Clay is the main component of bricks, son this cladding is not durable.

No Color/Design Variety

Easily Gets Dirty

Expensive Repair and Maintenance Costs

Installation Speed: Installation speed is low, because of using mortar in normal brick cladding. But dry cladding is installed much faster and easier. Also in dry cladding periodical repair and maintenance checks are conducted more easily especially in tall buildings. However, this system is not appropriate for other building, due to its high costs.
 Comparison of Heat Transfer Coefficient of Different Claddings
Material

Air

Brick

Clay Brick

Glass

Ceramic

Cement

Stone

Aluminum

Heat Transfer Coefficient

(W/m2K)

0.02

0.8-1.3

0.5-0.7

0.9-1.4

1.06

1.73

2-7

237
Table 2: Comparison of Some Important Parameters in Choosing Cladding
Brick

Ceramic

Bayramix

Glass

Aluminum Composite

Artificial Rock

Composite Natural Stone

Natural Stone

 

Low

Low

Medium

None

Relatively High

Relatively High

Relatively High

Low

Resistance to Earthquake

Low

Low

Low

Low

High

High

High

Medium

Insulation to Sound

None

Low

Low

None

High

High

High

Medium

Insulation to heat

Medium

Medium

Low

High

Very Low

Very Low

Very Low

High

Weight

Very Low

Very Low

Very Low

Low

Medium

Low

High

Low

Resistance to Different Weather Conditions

Medium

Medium

Medium

Relatively High

High

Relatively High

High

Low

Installation Speed

Very Low

Very Low

Very Low

None

Medium

Relatively High

High

High

Resistance to
Fire

High

Medium

High

Medium

Relatively Low

Relatively Low

Low

Low

Repair and Maintenance Costs

Very Low

Very Low

Very Low

Very Low

Medium

Medium

High

High

Durability

Low

Low

Low

Low

Medium

Medium

Relatively High

Medium

Benefit to Cost

Medium

Medium

Low

Low

Medium

Low

High

High

Environmental Standards
Comparison of Some Important Parameters in Choosing Cladding
References
1-J. Pakzad, Building Cladding and Its Evolution and Expectation, Fine Arts Magazine, No 14th
2- M. Rezayi Hariri, R. Fayyaz, Effect of 2 Layered Glass on Thermal Condition of Interrior, Fine Arts Magazine, No. 6th
3- M. Abbasi, M. Khamechian, M. Nikudel, T. Mirjalili, 2013, Analyzing Mineralogy, Physical and Chemical Properties
4- M. Rajabzadeh, A. Rahimi, M. Sadati, 2011, Analyzing Effect of Mineralogical Properties on Engineering Properties of Various Building Stones, Robat Abadeh, Fars, 3rd National Conference on Civil Engineering
5- F. Asgharizadeh, M. Esmayilnejad, 2013, Measuring and Comparison of Radon Radiation in Buildings with Granite/Carbonate Stone interior design, Safety and Measurement Magazine, Vol. 2, No. 1
6- Iranian National Building Code, Chapter 19, 2009, Energy Saving in Buildings (Steel Structures Section)
7- Iranian National Building Code, Chapter 6, Loading
9- ASTM E  84,2011.  Surface Burning Characterisitics of " Alcoband Composit Panel.
10- N. Egesi . C. A. Tse, 2011. Dimension stone: Exploration, evaluation and exploitation in southwest parts of Oban Massif Southeastern Nigeria, Journal of Geology and Mining Research Vol. 3(4), pp. 115-122.