Processing of Building Stones
Abstract
In stone cutting factories, they produce stone plates from stone blocks. There are different sections in a factory that cut blocks to desired dimension and shape, strengthen the plates, improve the quality of stone, polish and process the stone. Here is an introduction to these different stages of stone processing.
Key Words: Processing of Building Stones, Polishing, Resining, Stone Scouring, Various Polishing Stones
1- Cutting Stone Blocks
The extracted stone blocks are taken to stone cutting sections, shape of the block is affected by natural properties of mine and extraction method. If all of the incoming blocks do not have a specific shape, then the first machine in the production line must be a stone cutting machine, like single blade cutter or adamantine/metal stone cutting machines. Stone blocks are cut along one or more directions to make its surface smooth and even, then the block is taken to the sawing machine.
Cutting method is chosen according to properties, such as dimension of the final product, kind of the stone and its hardness. Cutting and polishing machines are classified as soft cutter and hard cutter.
Single Blade Cutter
Transportation of Stone Blocks
1-1-Cutting Methods
1-1-1-Saw
This is the most common method in stone cutting factories, especially the factories with production capacity. In this method stone block is cut by some parallel saws with adamantine blades. Adamantine saws have different properties, but they usually have 40 to 80 blades. They are classified as soft cutters and hard cutters.
Cutting Saw (Blades distance is adjustable b it is Usually in Range of 2-3 Cm)
1-1-1-1- Soft Cutter Saw
It is mostly used to cut Limestone, its precision and few losses are its main advantages. There are usually 3 kinds of adamantine saws, which includes:
Type 1: Block is stable on a wagon and sawing unit is lowered

Type 2: sawing unit is stable but block is vertically moved higher

Type 3: Sawing unit is positioned vertically and block is moved horizontally
1-1-1-2- Hard Cutter Saw
Instead of adamantine blades, metal/cast iron filings is used to cut stone blocks. Hard cutters may have as many as 150 blades, and modern saws can cut blocks with 200*350*330 Cm dimensions.
It is worth mentioning that, polishing hard (Granitic) stones is more difficult, and of course more expensive, so higher price for hard stones is common in the market.
1-1-2- Block Cutter
Block cutters have circular blades (discs) with adamantine segments. Diameter of the discs are in range of 15 to 300 Cm. In this method, block is cut by one or more parallel discs simultaneously and the cutting process may be done in one stage or more stages. The one stage method is useful for soft and semi-hard stones, but multistgae method is used for hard stones. Only 20% of disc's diameter may go deep in the stone, so as the cutting dimension increases, diameter of the discs must increase much more. So this machine is not suitable for high production.
Block Cutter (It Is Used more Frequently in Tile Production Line)
In one stage cutting the block cutter goes down as deep as width of the needed plate, this method is suitable for soft and semi-hard stones.
Multistage method is more suitable for Granite and stones with high Quartz percentage and hardness. In every stage only a few centimeters/millimeters of stone is cut but the process continues until the final cutting depth is achieved. The discs are concentric and may be as many as 30 to 40 in numbers.
The most important difference between multistage and one stage methods is the way discs move. In one stage method after vertical cutting, the disc goes backward and gets prepared to cut next plate. However, in multistage method after cutting, the discs go backward and downward. In one stage method if the machine has only one blade, there is complete flexibility for changing desired thickness. But in multistage method, thickness of the cut stones can be only as much as the distance between the vertical blades. Cutting depth and number of produced plates by block cutter is limited, as it can only cut stones with height of 120 Cm or less.
Cutting must be adjusted in a way that cutting velocity be in range of 2.5-3 m/min. Water or other coolants are used to cool adamantine blades. If enough water is not used to cool the blades, the body gets very hot and segments may be damaged, it may cause abrasion of the metal body. To minimize abrasion of adamantine blades it is recommended to use 5-10 lit/min flow of water.
Sufficient Water according to the Diameter of the Discs
| | |
| --- | --- |
| Diameter(mm) | Water(Liter per minute per disc) |
| 900 | 30 |
| 1000 | 35 |
| 1100 | 35 |
| 1200 | 40 |
| 1300 | 40 |
| 1600 | 40 |
2-1- Dimension Stone Processing Machines, Using Wire Saw Unit
Stone processing industry is progressing very fast, one of the newest machines used in this industry is wire saw, there are many different models of wire saw available:
Wire saw equipped with one wire, used horizontally and vertically for hard and soft stones

Continuous/oscillating wire saw equipped with 5 to 20 wires used for cutting hard and soft stones

Continuous wire saw equipped with 60 wires used for catting soft and hard stones, instead of machines with blades

Wire saw used for producing 3-D patterns on hard and soft stones
1-3- Cutting Direction
Cutting direction affects beauty, strength and weathering of the stone. The direction must be chosen in respect to application of the stone, preferred orientation of minerals, anisotropy of the stone and minerals distribution.
Onyx blocks can be cut parallel/perpendicular to their layers, using different cutting directions and various patterns for juxtaposition helps create beautiful facings.
Installing onyx is different from other stones, in fact there are some specific patterns for installing onyx tiles, and cutting direction is selected according to installation pattern.
1-3-1- Side by Side Pattern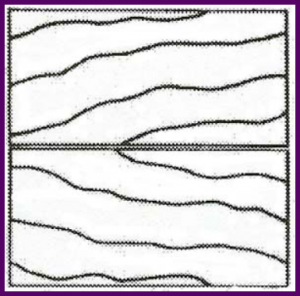 Side by Side Pattern (Onyx)
1-3-2- End to End Pattern

End to End Pattern (Onyx)
1-3-3- Symmetrical End to End Pattern

Symmetrical End to End Pattern (Onyx)
1-4- Technical and Safety Considerations for Cutting Stone Blocks
It is very important that safety consideration be instructed to workers that use stone cutting machines. Generally, for reducing risks and improving safety, the following points should be noticed:
Cut blocks are considered great peril for operators and cutting machines, so blocks should be completely fixed and stable before cutting, this also improves cutting precision and makes it easier to achieve a smooth surface.

There are two ways to prevent block pieces from falling down, in the first method, block is not completely cut, so the pieces do not fall. However in the second method block is completely cut.
Continuous sawing may lead to instability of block supports, in this situation changing them may be essential. Putting wedges beneath the block is one way for supporting blocks.
Wedges used for cutting blocks (on the Right), Using Cables Instead (on the left)
To hold cut blocks vertically while carrying and prevent them from falling down, it is recommended to use plaster or tie them together. If the pieces fall toward outside, it will be perilous to operators and if it falls toward inside, it might damage the machine. Therefore it is necessary to provide a safe support, and the most common procedure is deploying plaster.
2- Reinforcement
After cutting blocks into plates, they are carried to polishing department. Every rock has its own polishing method, for Granite and China stone the method is exactly the same, and only polishing stones are used. If the stone has cracks, it should be resined before polishing process is commenced, it helps to retain the strength and homogeneity of the stone during polishing process.
Reinforcements are used to prevent cracking of the stone while processing or after installation, and they may be used for the stones that are very expensive to be processed. Generally reinforcements fill cracks and pores of the stones and increase the durability, they should be chosen in respect to the kind of stone.
One kind of reinforcements is epoxy resin, and color of filled cracks is influenced by the paint used in epoxy resin.
It is also worth mentioning that in some production lines, polishing and cutting stages may be deployed in different order, and depending on the machines, longitudinal cutting may be used in initial stages.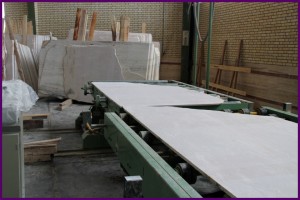 Stone Resining
3- Hot-air Passage
In slab production lines after stone reinforcing, hat-air passages with 80 to 90 centigrade temperatures are used to accelerate processing, producing and drying epoxy. On the contrary, hot-air passages are not deployed in tile production lines, greater size of slabs, makes reinforcing them more necessary and carrying them outdoors is more difficult.
Hot-air Passage
5- Improving Quality of Dimension Stones
5-1 Quality Improvement Methods
There are many problems regarding application of dimension stones, such as difficulty in achieving precise dimensions or right angle in plates which should be rectified by improving precision of machinery and labor force. Key factors in quality of dimension stones include:
Blocks Quality

Machinery and equipment

Method of quarrying, polishing and cutting

Labor Force

Accuracy in selection and installation

Quality control
5-2- Stone Painting
There are various methods for painting stones, if the color of stone is black, red and green, colorful waxes may be used; however, the produced color is temporary and should be renewed. Using colorful primer is another procedure, in which a primer with specific color is used while priming and after polishing, primer color combines with the stone color. In polishing stage, colorful powders may also be used, which slightly changes stone color.
In more advanced methods, painting is carried out under pressure, which help the paint penetrates into stone texture and makes the color of the stone very beautiful,  and most importantly the new color seems very natural.
Another method is to use color basins, stones are placed there for a long time, until the desired color is achieved.
5-3- Stone Resining
Although Travertine is primed due to its high porosity, other stones are primed scarcely. On top of priming, epoxy/polyester mastic may also be used, which are both commercially dubbed as resin, but in fact resin is used for their production.
Priming Travertine Surface
Polyester resin is used as liquid, solid or semi-solid material. Resin is available in colored and transparent variants. In most stone cutting factories, resin is used because it does not need special equipment, it is dryable under sunlight, and its low price, high resistance to radiation and high viscosity. Both of the mentioned resins need hardener for better performance (lower setting time). Reaction time for polyester is less compared to epoxy, and due to higher viscosity and shorter setting time, it has a lower penetration depth. After resining stone surface, oven is used to cook resin. To have a better process and a more valuable stone, it is recommended to use epoxy resin. It is more expensive compared to cement and polyester but is resistant to UV Radiation and its color remains intact under direct sunlight.
Epoxy resin is much stronger than polyester, 50-60 MPa strength, compared to 13-14 MPa for polyester. Although consuming epoxy resin is very common in the world, it is not yet that popular in Iran.
The important point is to consume a suitable resin, a resin which has thermal expansion factor close to stone's, remains water proof and is polishable. Color of resins is selected in respect to the stone. Of course transparent resin is colorless and is used for Onyx and Travertine whose surface has pores. The other type of resin, is dubbed as glass resin, which is only used for resining translucent onyx.
Another resining method is UV radiation, the only thing that differs in this method is that UV is used as hardener and there no need to chemical hardener. In this procedure a special UV radiation oven should be deployed for drying.
5-4- Coatings
Coatings are used as a cover for floor stones, they protect stones against abrasion
The most important coatings include:
Acrylic

Polyurethane

Epoxy

Varnish

Lacquer
6- Longitudinal and Transverse Cutting
After cutting blocks, large plates are longitudinally cut into plates with identical thickness. In transverse cutting stage, polished plates are cut into desired width according to the size of final product, by different disc mills. In larger factories, bridge cutters which use a 50-60 Cm disc, are more prevalent. About 10 plates are placed over each other, and then after adjusting machine, cutting process starts. Sometime there are also a Squaring machine with 30-40 Cm blades beside bridge cutter. There are totally 2 procedures for transverse cutting, parallel discs and single disc methods. The former has better precision while the latter possess higher production capacity. There are some technical point that should be noted during transvers and longitudinal cutting:
Cutting velocity depends on hardness of the stone, disc segments, and velocity of the disc

During cutting process, plates should be completely stable

Deploying a cooling system (usually water as coolant), not only does cool the discs, but it prevents dispersion of dust.

Both sides of the cut plates should be completely straight and parallel, also upper and lower sides must be completely parallel and smooth.
Bridge Cutter
7- Polishing and Finishing
Longitudinal polishing is performed to equalize the width of plates before transverse polishing.
7-1- Recommended Properties for Longitudinal Polishing Machine
High efficiency and quality

Fast and easy shift in width and high flexibility

Long lifetime

Simplicity and safety
7-2- Factors Affecting Polishing Quality of Continuous (Longitudinal) Polishing Machines
Pressure distribution

Transvers velocity

Longitudinal velocity

Stone and planes being level

Smoothness of planes

Quality of polishing stones

Amount of water
7-3- Polishing Stones
Polishing stones are classified in respect to mortar which is used in them and also their application.
7-3-1- Classifying According to Mortar Type
Magnesic Mortar: This is the most popular type, due to its refractory and ceramic-like properties.

Resinic Mortar: This is used in resinic polish, acidic polish and final stages of stone finishing. The final product has great quality.
7-3-2- Classifying According to Stone Type
Hard Polishing Stone

Soft Polishing Stone
Hard stones (Granite), need to be polished gradually to control extreme pressure on the surface of the stone and keep it intact. Hard polishing stones possess less area and need more water as coolant while operating. As a result shape of hard polishing stones should be designed in way that allows water transportation easily. However, soft stones need less water.
7-4- Abrasive Grains and Numbering of Polishing Stones
Aluminum oxide, Silicon Carbide are the most popular, although Corundum is also sometimes used.
1200-1000-800-600-400-320-280-220-180-120-80-60-46-36-24-20-16, and finally it comes to acidic stone which is the last stage of finishing.
The numbering is used as follows:
Stage 1: Using polishing stone No. 36 or No. 46

Stage 2: Using polishing stone No. 80 or No. 100

Stage 3: Using polishing stone No. 220

Stage 4: Using polishing stone No. 400

Stage 5: Using polishing stone No. 600

Stage 6: Using acidic polishing stone
7-5- Various Kinds of Polishing Stones
Polishing stones are deployed in the last stages of polishing process and are categorized as:
7-5-1- Acidic Polishing Stone
This kind of polishing stones is used for Marble (Travertine, Marble and China stone) stones, and it should be noted that, these polishers are more efficient than polishers of preceding stages and produce better shininess on the surface of the stone, however they have a shorter lifetime.
7-5-2- Lux Polishing Stone
This is also made of polyester resin, and is used to improve Granite stones.
7-5-3- Cleaner Polishing Stone
This is used to clean the surface of the stones after the other polishing stones are used. In fact cleaner polishing stone counteracts the chemical effects of other polishing stones and used as final polishing.
7-5-4- Marble Polishing Stone
This is made of Magnesium bonds and is used to polish Marble stones. Marble polishing stones are available in different shapes and colors. Frankfurt type is used for polishing Marble and China stone; however, the hollow Frankfurt type is appropriate for polishing Travertine and soft stones.
7-5-5- Other Polishing Stones
They are main polishing stones and are deployed in middle stages of polishing, they are categorized as follows:
Resin Cleaners: They are made of polyester resin bonds and used for cleaning mastics on Travertine surface. This polisher improves quality and speed of cleaning mastics, and obviously the costs are lowered. Frankfurt type is produced in green (No. 2) and black (No. 1). The black one is deployed after preliminary polishing and resining, but the other one is used after the black one.

Lacquer Polishing Stone (No. 400 to No. 1000): It is applied after resin cleaners for Travertine, and used before final polishing for other stones.

Pre-finishing Polishing Stones: It is deployed before final stage of polishing, in fact it prepares the stone for final polishing.
7-5-6- Granite Polishing Stone
They are made of Magnesium bonds and are applied to Granite and granitic ceramics. They are available in Frankfurt and iron types, but 14 Cm iron type stone is the most popular one.
8- Final Finishing
After polishing stages, if other than vertical edges is desired, it is produced in this stage.
8-1- Corner Rounding
In this stage the edges and corners of the stone are processed. Therefore the edges are rounded by two sanders systems, to provide high quality corner rounding, different machines are deployed to produce rounded, semi-rounded and diagonal edges.
8-2- Scouring
Scouring is very common for floor stones, this process is performed either manually or by air hammers. This process dates from a very long time ago and the reasons behind it is making surfaces less slippery. It is more common in stairways and floors but it might also be observed in cladding.
Scouring is more frequently applied to Travertine and Limestone, for example if the pattern of Travertine is not desirable after polishing, scouring helps to fade the unwanted patterns and only make the color of stone observable. Generally, stones seem darker when polished, and scouring is used to make them seem lighter. Scouring may be classified into different types in respect to direction, depths and number of blades.
Travertine with Different Finishes
Marble with Different Finishes
8-3- Granite Suturing
Sutured Granite is very useful for exterior uses, there are totally 3 different types of suturing:
Sandblasting: Sandblasting is a general term used to describe the act of propelling very fine bits of material at high-velocity to clean or etch a surface. Sand used to be the most commonly used material, but since the lung disease silicosis is caused by extended inhalation of the dust created by sand, other materials are now used in its place. Any small, relatively uniform particles will work, such as steel grit, copperslag, walnut shells, powdered abrasives, even bits of coconut Due to the dangers of inhaling dust during the process, sandblasting is carefully controlled, using an alternate air supply, protective wear, and proper ventilation.
Flaming: A Flamed finish is produced when an intense flame is fired at the stone, causing the surface to burst and become rough. This finish is used primarily for exteriors applications where slip-resistance is extremely important. A flamed finish cannot be applied to all stones; however, most granite and certain hard limestone are preferred.
Flamed, Sandblasted and Bush-Hammered Finishes
8-4- Producing Antique patterns
     This process makes stone seem very old and valuable, and is more popular with Travertine, although other stones may also be included. The procedure is either mechanical or performed by acid. Washing surface of Travertine with acid, makes it look ancient and antique. However the residual amount of acid after cleaning may cause corrosion until a very long time, which is the disadvantage of this method.
The other method is called "Leathering", which is the process of texturing granite or marble to appear less glossy. This process amplifies the natural characteristics of granite or marble, resulting in an exquisite surface. It is easy to clean and maintain, as well as, pleasing to the touch – a perfect balance between style and practicality.
Antique Surface (on the right), Leathered Surface (on the left)
8-5- Special Finishes
In respect to architectural aspect of cladding and building stone, some other operations may be performed on their surfaces:
8-5-1- Thin Pieces of Stone
The special finishes for stone pieces with less than 5 mm thickness, include:
Mixed Finish

Diagonal, rounded and straight edges

Diagonally, round or straightly cut finishes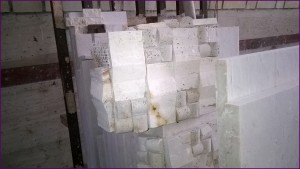 Different Special Finishes
8-5-2- Thick pieces of Stone
For pieces with greater than 8 Cm thickness, the processing operation is performed by ordinary methods, and sometime for curved cuts, special machines with adamantine wire may be used.
8-5-3- Pieces with Cylindrical Surface
This category includes stones in shape of cylinders, hollow cylinders, cones, truncated cones and so on.
8-5-4- Producing Various Profiles Using Stone
To produce special profiles, ordinary machines equipped with CAM/CAD tools are used. In recent years with help of technology and computers, designed profiles are easily produced.
8-5-5- Different Installation Methods
Perforating anchorage holes on both sides of stone

Perforating anchorage holes on unprocessed side
All in all, miscellaneous technology is deployed for these special processes, and on top of ordinary machines, there are some special machines used, such as, bridge saw, finishing machine and so on.
Resources
1- M. Ataie, 2008, Extraction of Building Stones, Shahrood University of Technology Publication
2- Magazine No. 378, 2008, Guide to Discovery, Extraction and Processing of Dimension Stones, Iran's Ministry of Industry, Mine and Trade
3- Educational Journal of "City of Stones", 2014, Issue 22
4- STONE PROCESSING IN ARMENIA
5- http://www.what-is-travertine.com
6- www.stone.com.
8- http://www.stonesurfaces.ca/