ExpoStone 2015
Excerpts from the interview session of 'You-stone' representative with Ms. Maria, Director of the 'Expo Stone' exhibition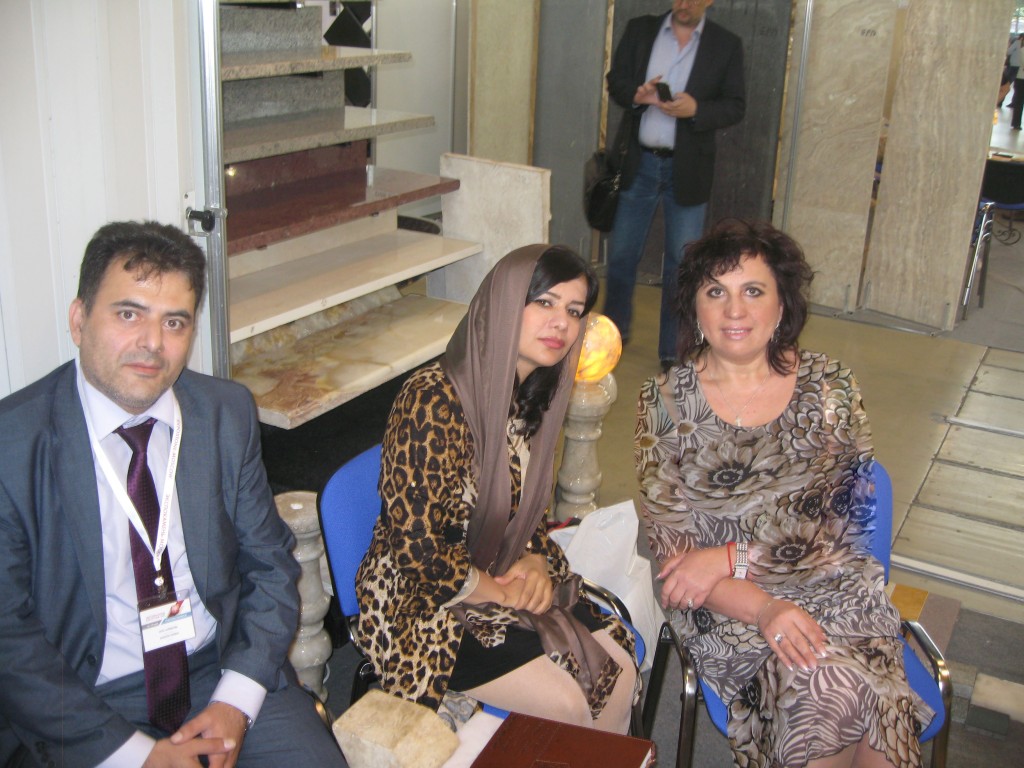 What is the purpose of the 'Expo Stone' exhibition?
The 'Expo Stone' exhibition is a completely specialized exhibition, with mine owners, manufactures and traders being in attendance and stone products and machinery and equipment available to be visited. This exhibition is highly welcomed by the visitors. This year another exhibition titled as 'Expo Center 2015″ also in this field, with wider dimensions and at several-fold expense was held in Moscow. As well as the attendance of stone activists, also construction companies, manufacturers and traders of building materials, designing and Interior decoration companies attended 'Expo Center'; Whereas the current exhibition is completely specialized and is highly specific to stone and visitors merely search for stone or pertinent machinery. This exhibition is a golden opportunity for stone market activists from different countries to visit and start interacting with each other.
What is your idea about (How do you see) Iran's stone's place in the Russian market?
Iran's stone is not common (is rare/scarce) in Russian market, but I know, with diverse and special colors, it can attain a good place in Russian market. On the other hand, Russian market is extremely wide.
I have already traveled to Iran; I have seen astonishing architecture of Takhte Jamshid in close proximity. Iran enjoys (possesses) rich mineral resources and longstanding background of a specific architecture. Hence Iran can attain a higher place in the arena of stone world trade.
How did you conduct the dissemination of information?
We conducted the dissemination of information using common methods such as ' Expo Stone' website, communicating with mine and stone unions in different countries and also using media; we were well-received too.
About Iran, regarding this exhibition, I wrote a letter to one of the pertinent organizations in Iran to ask for cooperation and dissemination but unfortunately received no reply and in the following efforts I did not achieved any result.
We also corresponded directly with some companies; however they asked for a quotation, but we did not receive any official request for participating in the exhibition.
In your idea, what is the reason for the low turnout (attendance) of Iranians in this exhibition?
High expense of this exhibition may be a decisive factor; perhaps Iranian exporters take the cost of transportation into consideration too. This matter, regarding the type of stone and its destination in Russia, can be discussed.
However, I think that dissemination of information is a deciding factor too.
In some of the countries such as Turkey, manufacturers and exporters enjoy governmental support; certainly these circumstances are provided in Iran too. That is where timely dissemination of information, both in terms of adequate time for interested people to arrange to attend the exhibition and, if possible, in order to conduct timely consultations to enjoy governmental support, can be efficient to use.
You know that ' You Stone's ' purpose is to support stone activists, facilitate and promote Iran's relations in stone world trade and to provide required services. What is you suggestion for ' You Stone '?
We are very happy to become acquainted with 'You Stone' in this exhibition. After your yesterday interview with my assistant, Ms. Natalia, we held a meeting about this matter. She illustrated your activity; that you have drawn up a directory including up-to-date information of Iran's mines.
In Russia, even the chamber of commerce will not provide such information. In fact, we hope that big steps will be taken; we are fully interested in this cooperation; we will sign a memorandum of understanding for future cooperation which its details will be discussed after the exhibition. We hope to see that Iran participates actively in the next year exhibition.